7 Safety Tips for Motorcycle Safety Awareness Month
Kershaw, Cook & Talley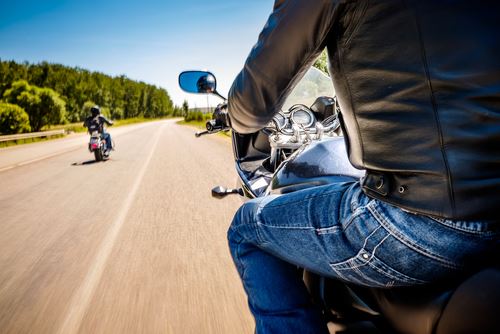 Although motorcycles have become somewhat safer over the years, these vehicles still present some of the biggest threats to both rider and driver safety. According to the National Highway Traffic Safety Administration (NHTSA), there are 28 times more motorcyclist deaths than any other type of vehicle-related fatality. While 2017 saw a 5.6% decrease in rider deaths, the injury rate for motorcyclists has stayed relatively steady since 2007, at around 1,000 injuries per 100,000 motorcycles.  
If you ride a motorcycle, it's important to take precautions to avoid a life-threatening accident on the road. During Motorcycle Safety Awareness Month this May, taking a minute to review basic safety precautions and key accident statistics might make all the difference on the road. At Kershaw, Cook & Talley, our Sacramento team is committed to helping spread awareness about the dangers posed to motorcyclists, and ensuring that no individual has to suffer because of a driver's negligence.
Here are 7 safety tips that motorcycle riders should keep in mind:  
Always wear a helmet. Studies have shown that helmets reduce the risk of brain and head injury by almost 70%, and reduce fatality risks by 42%. Helmets may seem inconvenient, but they can save your life in the event of an accident.
Observe all posted speed limits. Speed limits are designed with your safety in mind. Even if it can be exhilarating to move at high speeds, motorcyclists face more serious risks of injury and death with every mile-per-hour past the posted speed limit.
Perform regular maintenance and inspections on your bike. It may seem self-explanatory, but a poorly-maintained bike can add to risks on the road. Pay particular attention to your tires, lights, and fluids before each ride, and check that your mirrors and brakes are in working order.
Be careful while lane-splitting. California is the only U.S. state that does not forbid the practice of lane-splitting, or driving between two marked lanes. With the passing of AB 51 in 2016, the California Highway Patrol has now posted more detailed guidelines on lane-splitting. If you decide to split lanes, be sure to read these safety guidelines thoroughly.
Pay attention to drivers. According to the 1981 Hurt Report, up to two-thirds of motorcycle accidents may be caused by a driver failing to give a motorcyclist the right of way. This is typically because the driver cannot see the rider, and sometimes it's due to intentional aggression. Either way, you should ride with your lights on and stay out of blind spots.
Wear proper gear. Once an accident begins, motorcyclists are entirely vulnerable to machinery and the effects of inertia. Wearing proper protective gear, such as leather jackets and thick riding pants, can cushion your impact and reduce lacerations.
Never drive fatigued or intoxicated. Research shows that fatigue can have the same impact on driver ability as alcohol intoxication. Before you ever get onto a motorcycle, be sure that you are alert and sober.
Contact Our Motorcycle Accident Team Today
Even if you are extremely careful to observe the rules of the road, motorcycle riders face enormous risks. If you are injured over the course of a serious accident, our Sacramento accident team can help you pursue damages from the negligent party. With over a hundred years of combined experience, we'll take on your case with tenacity and skill, and fight for justice on your behalf.  
Call Kershaw, Cook & Talley at (916) 520-6639 for more information.
Categories: