TDF Lawsuit Attorneys
If You've Been Harmed by a TDF Drug, Call
(916) 520-6639
What is TDF?
Tenofovir disoproxil fumarate (TDF) is an antiviral drug that is commonly prescribed to improve the quality and length of life for people with HIV. However, it has been reported that the drug causes kidney disease and bone injuries.
TDF contains the active ingredient tenofovir, which stops HIV from multiplying. But clinical studies and FDA monitoring revealed the specific composition and use of TDF drugs is associated with the gradual loss of kidney function and diminished bone mineral density.
​​​​Current lawsuits against Gilead allege the company purposefully withheld safer versions of its antiviral drug and deceptively marketed the TDF based drugs as "miracle drugs" with no or minimal toxicities.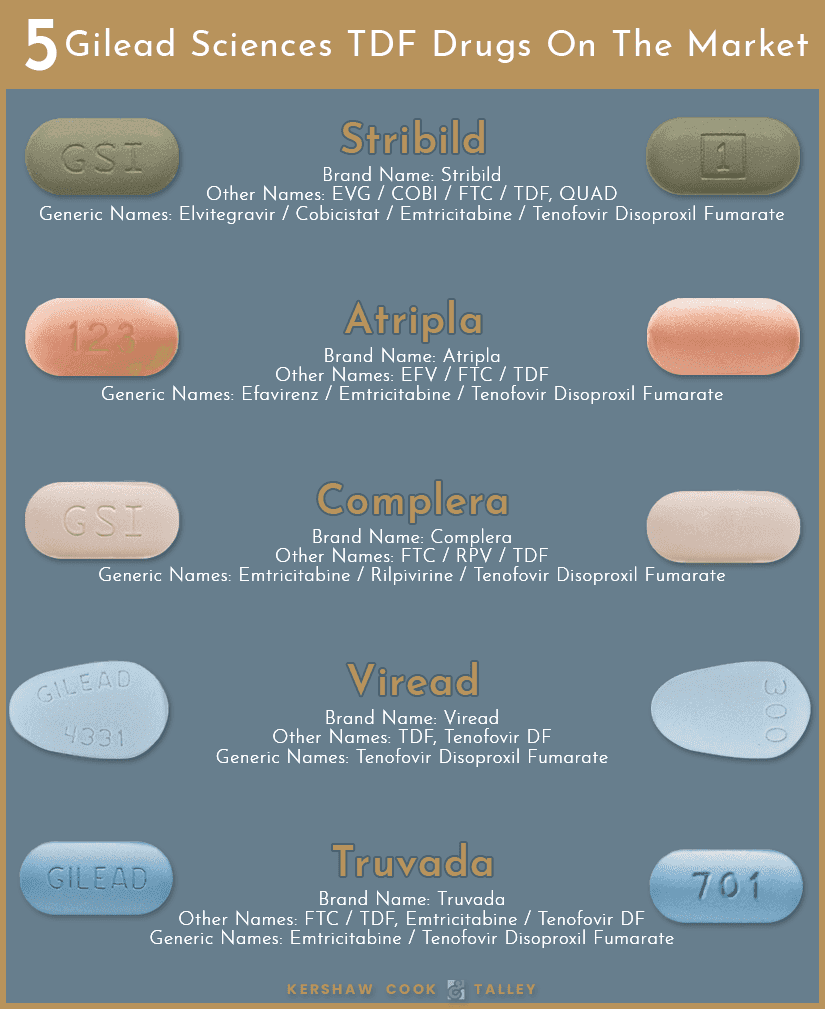 What Are the Dangers of TDF?
People taking any TDF drug should be advised of its serious health risks. In recent clinical studies, researchers have found higher rates of declining kidney function and reduced bone mineral density in patients after 1 -2 years use of TDF, and in as few as 3 months of TDF use.
Common symptoms of kidney disease include:
Loss of appetite
Fatigue
Poor concentration
Swelling of feet and ankles
Itchy skin
The need to urinate frequently
High blood pressure
Common symptoms for declining bone mineral density include:
Back pain
Stooped posture
Loss of height
Bone fractures from minor stress or falls
Tooth Loss
Other TDF side effects allegedly include liver problems and lactic acidosis, a condition that causes lactic acid to build up in the body, resulting in low pH levels.
Negligence of Drug Manufacturer Gilead sciences
Gilead first developed and released Viread, an HIV treatment drug, in 2001. That same year, Gilead began to develop tenofovir alafenamide fumarate ("TAF") to try to minimize the adverse effects of TDF.
John Milligan, Gilead's former President and Chief Executive Officer, called TAF the "kinder, gentler version of Viread" because it can be given at a dramatically lower dose than TDF while being just as effective.
In developing its subsequent antiviral drugs, Gilead had a choice to use TDF or to use TAF, the safer design for delivering the active ingredient tenofovir into the body. For nearly 15 years, Gilead chose to continue to use TDF despite its known adverse effects in patients. Milligan later admitted that the real reason Gilead withheld the safer TAF design was because they did not want to hurt TDF sales by admitting that TDF was not the "miracle drug" Gilead claimed it was.
If you or your loved one has taken a TDF drug and suffered adverse side-effects, call our firm today at (916) 520-6639 to discuss your case in a free consultation!
FDA Cracks Down on Gilead
The Food and Drug Administration (FDA) has twice reprimanded Gilead for unlawfully minimizing the risks of TDF.
Gilead continues to downplay the risks of TDF by:
Misrepresenting the drugs as safe
Dismissing TDF associated adverse events as purportedly unavoidable side effects of tenofovir
Discouraging doctors from monitoring patients by using more sensitive markers of kidney function
Moreover, Gilead's misleading statements to doctors have further undermined the inadequate warnings of TDF adverse effects in drug labels. Current lawsuits allege that if Gilead had given adequate warnings and monitoring instructions, doctors would have heeded them and detected TDF toxicity earlier through better, more frequent monitoring, and thereby preventing or lessening patients' injuries.
Do I qualify for a TDF Lawsuit?
Kershaw, Cook & Talley is currently handling TDF injury cases in California and nationwide. If you've taken a TDF drug and suffered adverse side-effects, you may qualify.
You have taken any of the following medications to treat or prevent HIV:
Viread
Truvada
Atripla
Stribild
Complera
You have suffered any of the following injuries after consistent usage of a TDF drug:
Chronic Kidney Disease
Acute kidney injury
Severe renal deficiency
Fatal renal insufficiency
End-stage renal disease
Loss of bone density
Low bone mineral density
Bone loss
Bone breaks or fractures
Bone necrosis
Tooth loss attributed to bone density disorder
Fanconi Syndrome
Osteomalacia (before the client turns 55 yrs old)
Osteoporosis w/pathological fracture
Further criteria include:
No history of extended use of hard drugs (heroin, crack, meth) within the time of taking TDF and diagnosed with kidney disease or bone density loss
No prior legal representation
No longer taking TDF drugs (Viread, Truvada, Atripla, Stribild, or Complera)
No diabetes
No prior or current chemotherapy
No diagnosed eating disorders
Generally compliant with prior or current HIV medication
Residents of Tennesee, Kentucky, and Louisiana
Consult with Our Skilled Legal Team Today
If you want to gain a more comprehensive understanding of the merits of a potential claim against Gilead Sciences, you should seek advice from one of our experienced TDF lawyers at Kershaw, Cook & Talley. Our legal team boasts more than a century's worth of collective legal experience litigating personal injury matters, including issues involving dangerous products like TDF antiviral drugs. With us, you can expect to have a devoted advocate who can skillfully read the legal landscape to help you find an effective path to secure the justice you deserve.
Call us at (916) 520-6639 to learn more about how our law firm can assist you. Schedule your free initial consultation today.