Sacramento Bicycle Accident Attorneys
Over $1 Billion Recovered for Injury Victims
Bicycle culture is an integral part of California – and bicycles are an increasing trend in the Sacramento area, both as a mode of transportation as well as for exercise. While bicyclists have the same rights and responsibilities as motor vehicle drivers, some drivers do not think that bicyclists have the right to share the road.
Bikers (and pedestrians) are frequently classified as "vulnerable road users" because they face an elevated risk of serious injury when encountering motor vehicles. There is essentially no protection from a vehicle weighing several thousand pounds, resulting in traumatic brain injury, spinal cord injury, paralysis, amputations, fractures, organ damage, scarring, lacerations, and even death.
Fight for the financial compensation you deserve by calling an experienced Sacramento bicycle accident attorney today at (916) 520-6639
A Team of Avid Cyclists Protecting Bike Accident Victims
At Kershaw, Cook & Talley, we do not just represent bicyclists in personal injury lawsuits; we are a team of avid cyclists and cycling enthusiasts who understand all the applicable laws governing bicycle and vehicle use in California.
By investing our time in important bicycle advocacy, participating in cyclist events throughout the Sacramento and Bay Area, and fighting for the rights of bicycle accident victims, we hope to create a safer world for cyclists in the future.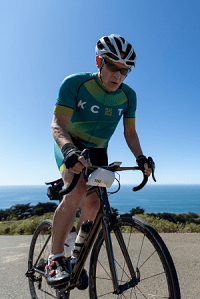 Attorney Bill Kershaw pictured here.
For more information on how we can help with a bicycle accident claim, contact our firm today at (916) 520-6639.
Compensation You Can Recover After a Bicycle Accident
You have the right to pursue a claim to recover compensatory damages if you were injured, including:
Lost earnings
Medical expenses
Rehabilitation costs
Pain and suffering
Loss of enjoyment of life
Mental anguish
Emotional distress, and so forth.
Our experienced Sacramento bicycle accident lawyers have served thousands of individuals with serious injuries. Healing is your main priority – handling your case is ours.
Bicycle Crash Facts and Statistics
According to the Pedestrian and Bicycle Information Center, the six most frequent sources of bicyclist injury are:
Hit by car
Fell
Roadway/walkway not in good repair
Rider error/not paying attention
Crashed/collision
Dog ran out
Many vehicle drivers use the bicycle lane as though it were meant for cars and do not obey the safe passing distance. According to the National Highway Traffic Safety Administration (NHTSA), there were 726 bicyclist deaths and 50,000 bicyclist injuries in 2014 throughout the nation. Pedal-cyclist fatalities were the second-highest in California. During this time, California accounted for 128 deaths of bicyclists in collisions with motor vehicles. Drivers and cyclists should obey traffic laws and share the road.
As of September 16, 2014, however, California law requires drivers to give bicyclists three feet as they pass them on the road, regardless of whether there is a bike lane.
According to the Governors Highway Safety Association Spotlight on Bicyclist Safety, public health officials and lawmakers can reduce fatalities by implementing the following:
"The goal is to reduce the time or distance in which bicyclists are exposed to risk via marked bike lanes, bicycle boulevards, separate bicycle traffic signals, and other techniques. These treatments can be supplemented by methods to slow motor vehicles down, and roadway lighting and warning signs to increase awareness of the presence of bicyclists."
What Are Common Causes of Bike Injuries?
Driver negligence often results in cyclist injuries and wrongful deaths. Driver behaviors or acts constituting negligence include:
Driving Under the Influence (DUI)/ Driving While Intoxicated (DWI)
Distracted driving (e.g. texting)
Speeding or aggressive driving
Running stop signs or red lights
Encroaching on bicycle lanes
Making careless turns and lane changes without signaling
Not respecting the bicyclist's right of way
Failing to leave 3 feet between the car and the bicycle when passing
Nearly a third of all injuries are caused when bicyclists are struck by cars. Cyclists may have legal recourse if they sustained an injury as a result of driver carelessness. You can potentially file a claim against the driver to recover damages when a vehicle hits your bike or forces you off the road and you're injured, if you or a witness can identify the driver. Uninsured motorist policy may pay for your damages if there is no identifiable driver (i.e. hit and run).
Contact Our Bicycle Injury Team Today
Our team at Kers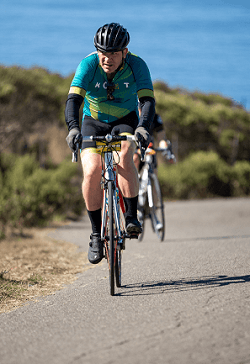 haw, Cook & Talley not only brings that experience to the table, but our managing partner Bill Kershaw is an avid cyclist and a proud proponent of various organizations in California that support the rights of all cyclists in California.
Our attorneys also regularly participate in cycling races together as a team, such as the October 2019 Levi's Gran Fondo. This experience means that we understand exactly what bicycle riders are up against on the road.
If you were injured in a bicycle accident caused by someone else's negligence, contact Kershaw, Cook & Talley for a free case consultation at (916) 520-6639.
Bill Kershaw is an avid cyclist and cycling enthusiast and is a proud proponent of various organizations in California that support bicycle advocacy and the rights of all cyclists in California.