No-Hide Dog Chews Are "Absolutely Rawhide Split Material," Leather Chemist Says
Kershaw, Cook & Talley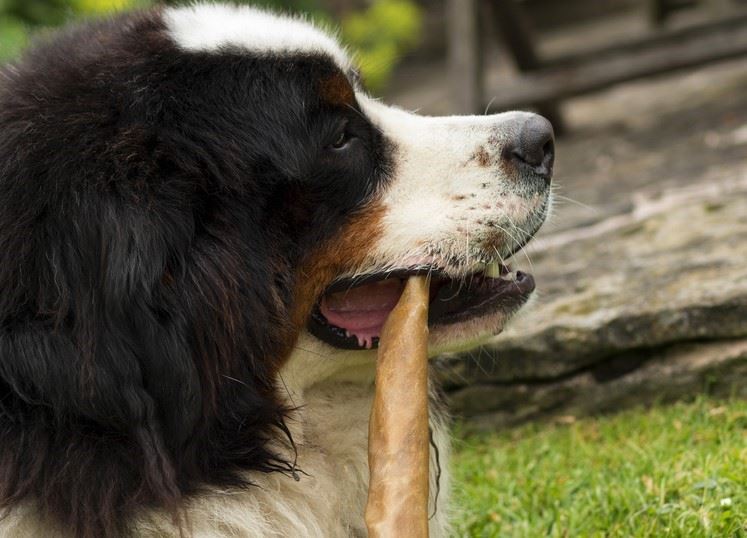 The pet food manufacturer Earth Animal is facing heavy scrutiny and possibly lawsuits over its "No-Hide Dog Chews" that actually contain animal hide. The revelation comes from leather chemist, Dr. Waldo Kallenberger, who stated "the material is absolutely rawhide split material." Kallenberger was sent a "No-Hide Dog Chew" for examination after a dog in Georgia inhaled one of the chew treats and eventually passed away due to respiratory complications.
According to multiple statements throughout the Earth Animal website and their product packaging, the "No-Hide Dog Chew" line of chews does not contain hide, which, in theory, makes them more digestible than traditional rawhide. For years, dog owners have known that rawhide can be dangerous for dogs to chew, as it can splinter upon ingestion and cause internal organ damage. Rawhide is also resistant to stomach acid and may not deteriorate when eaten, causing other problems.
Dr. Kallenberger's findings were made through microscopic testing. In his research, he noticed blood vessels and flesh residue in the material, as well as other indicators that showed the material was some form of rawhide. Earth Animal contested the result by stating it could be attributed to the fact that the "No-Hide Dog Chews" are manufactured in a building that also handles other hide-based products. The explanation, however, does not seem to account for the fact that the results were based on a microscopic study of the material's composition.
(More information about the "No-Hide Dog Chews" controversy can be found by clicking here and visiting a full article from Truth About Pet Food.)
Holding Companies Accounting for False Advertising
At Kershaw, Cook & Talley in Sacramento, our team of class action attorneys are currently investigating the ongoing "No-Hide Dog Chew" cases. Attorney Stuart Talley is leading our firm in this investigation, which may accumulate into a potential class action against Earth Animal. Depending on further studies and information, it may be that the "No-Hide Dog Chews" cause digestive problems for a dog as bad as or worse than traditional rawhide. Or, it may be harder for a dog to chew up and break down the chews, posing an unreasonable choking hazard.
Even if it is found that the "No-Hide Dog Chews" do not pose a danger to dogs, the company still falsely advertised the chews. Misleading marketing tactics to gain profits should be met with legal resistance and demanded accountability, such as through a class action.
Have you purchased "No-Hide Dog Chews" for your pet? Please tell our Sacramento class action attorneys about your experience with the product. It may prove instrumental with our investigation. Call (916) 520-6639, use an online contact form, or reach out to Attorney Stuart Talley directly by emailing stuart@kctlegal.com. Within your message, please include the best time and way to get in contact with you. Thank you.
Categories: