Sharing the Road with Bicyclists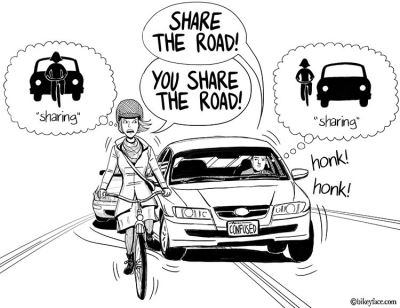 Bike month is back in the Sacramento region. During the month of May, bicyclists will be out in full force on the roadways. Bicyclists and motorists need to share and follow the rules of the road.
In California, over 100 people are killed and hundreds of thousands more are injured in bicycle accidents each year. Some bicycle related collisions are due to the bicyclist's behavior, while others to the driver's distraction. As a motorist, it's important to be aware of bicyclists to avoid accidents.
Here are helpful tips for motorists to prevent accidents:
Keep a three foot buffer between you and the bicycle

In 2014, California passed the "Three Feet for Safety Act" which requires that drivers maintain a minimum 3-foot clearance when passing a bicyclist.

Do not pass until the traffic lane next to you is clear
Pass on the left and only when it's safe
Yield to bicyclists when turning
Always check your mirrors and blind spots for bicyclists
Be cautious at intersections and crosswalks
Do not drive or park in a bicycle lane
A bicycle is a vehicle and have the same rights on the roadway. This means they are also required to follow the rules. Bicyclists and motorists can do their part to avoid an accident. Remember the 3 P's:
Patience
Pay attention
Pass safely
Posted By
Kershaw, Cook & Talley
Categories: